County Office Complex
Other Arboreta:
Arboreta Homepage
Forestry Homepage
About Governor's Hill Arboretum
On April 28, 2014, Council member Mary Kay Sigaty, on behalf of Ken Ulman, unveiled an arboretum on the campus of Howard County government in Ellicott City. Due to County Executive Ken Ulman's generous support, permanent identifying signs were placed at more than 40 important trees at the site. Brochures are also available to guide the public around the property, and an interactive map developed as a joint effort between the Forestry Board President Tricia Valentine and Howard County's GIS Department can be accessed on mobile devices.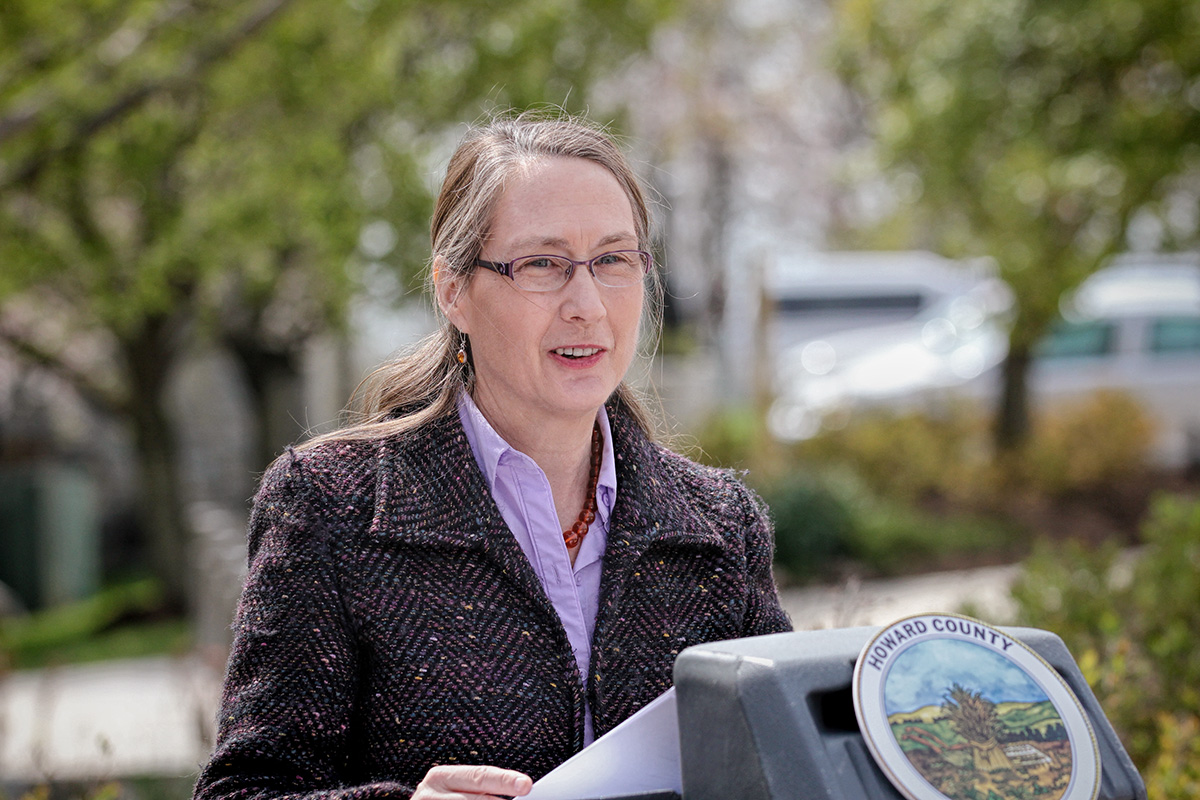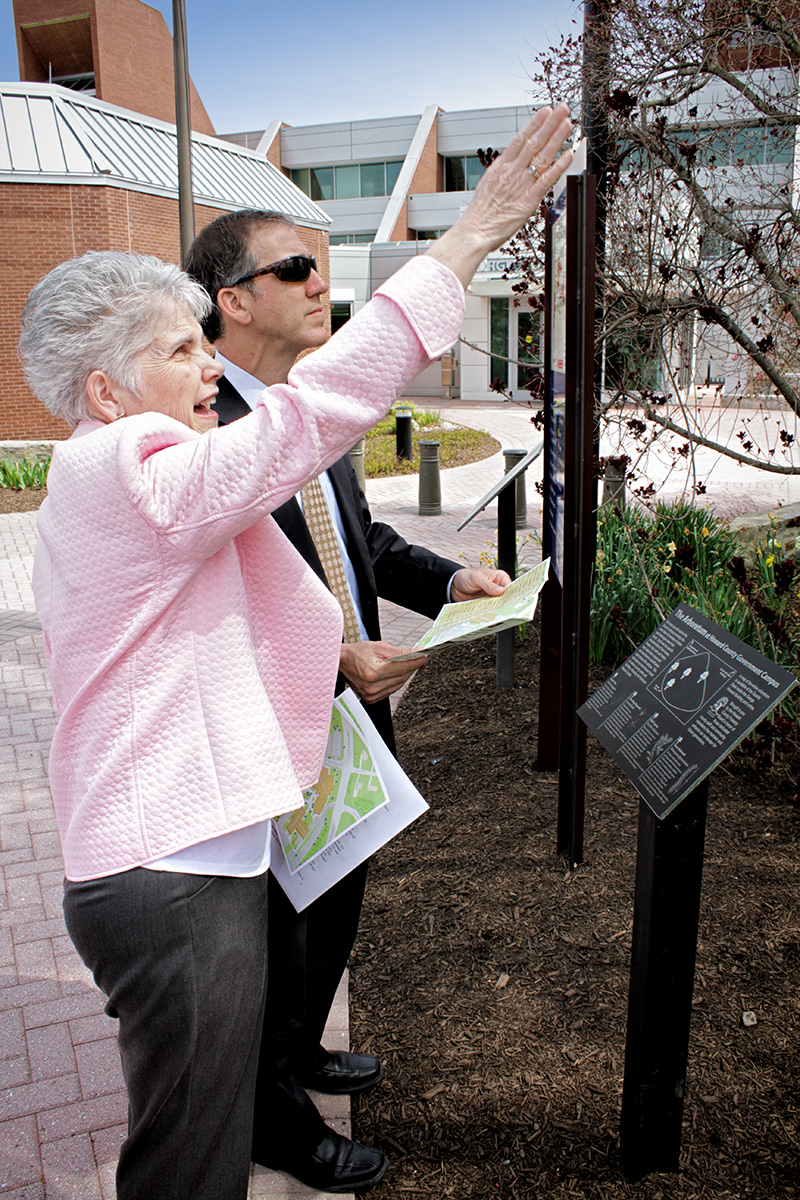 "We work hard to protect our natural spaces throughout Howard County," said Executive Ulman. "I think people would be surprised to learn that there is so much diversity and preservation, even in unexpected places. I truly hope visitors to the George Howard Building will take a moment to walk around and appreciate what we have. Especially our young people."

The Forestry Board and Howard County's GIS Department have collaborated to create an interactive map of the arboretum. The map may be enjoyed on both computers and mobile devices.

The interactive map will help you locate and identify the wonderful trees planted around the arboretum. Identification signs have been placed at 41 of these trees. Click on each tree name to see an illustration and more information about the tree. We hope this exhibit piques your curiosity and encourages you to look at the trees carefully and inquisitively.
Trees at Governor's Hill
Governor's Hill has a fine collection of both native and exotic trees and shrubs. The complete list is below.
| Common Name | Scientific Name | Map ID |
| --- | --- | --- |
| Smoketree | Cotinus coggygria | 1 |
| Flowering Dogwood | Cornus florida | 2 |
| Baldcypress | Taxodium distichum | 3 |
| Dawn Redwood | Metasequoia glyptostroboides | 4 |
| Sweetbay Magnolia | Magnolia virginiana | 5 |
| Lacebark Elm | Ulmus parvifolia | 6 |
| Scholartree | Sophora japonica | 7 |
| Red Maple | Acer rubrum | 8 |
| Korean Dogwood | Cornus kousa | 9 |
| Flowering Cherry | Prunus serrulata | 10 |
| Weeping Cherry | Prunus subhirtella | 11 |
| Goldenrain Tree | Koelreuteria paniculata | 12 |
| American Holly | Ilex opaca | 13 |
| Mugo Pine | Pinus mugo | 14 |
| Crimson King Norway Maple | Acer platanoides | 15 |
| Hedge Maple | Acer campestre | 16 |
| Northern Red Oak | Quercus rubra | 17 |
| River Birch | Betula nigra | 18 |
| Green Ash | Fraxinus pennsylvanica | 19 |
| Pin Oak | Quercus palustris | 20 |
| Saucer Magnolia | Magnolia Xsoulangiana | 21 |
| Sassafras | Sassafras albidum | 22 |
| American Beech | Fagus grandifolia | 23 |
| Princess Tree | Paulownia tomentosa | 24 |
| Pignut Hickory | Carya glabra | 25 |
| Sweet Cherry | Prunus avium | 26 |
| Silver Maple | Acer saccharinum | 27 |
| Kwanzan Cherry | Prunus serrulata 'Kwanzan' | 28 |
| American Hornbeam | Carpinus caroliniana | 29 |
| White Oak (Wye Oak seedling) | Quercus alba | 30 |
| Eastern Redbud | Cercis canadensis | 31 |
| Nellie Steven Holly | Ilex 'Nellie Stevens' | 32 |
| Crabapple | Malus sp. | 33 |
| Boxelder | Acer negundo | 34 |
| Tree of Heaven | Ailanthus altissima | 35 |
| Black Locust | Robinia pseudoacacia | 36 |
| Zelkova | Zelkova serrata | 37 |
| Serviceberry | Amelanchier arborea | 38 |
| Western Arborvitae | Thuja plicata | 39 |
| White Ash | Fraxinus americana | 40 |
| Eastern White Pine | Pinus strobus | 41 |
History

The arboretum at Governor's Hill was opened by former County Executive Jim Robey in 1999. Significant improvements were made to breathe new life into the exhibit in 2014 thanks to generous donations by Ken Ulman.

The government center hill is sometimes called "Governors' Hill." The office buildings on it are named for four Maryland Governors: Howard, Carroll, Ligon and Warfield, all residents of Howard County.

The Howard Building, opened in 1978, is named for George Howard, son of John Eager Howard, a Revolutionary War hero for whom the county is named. George filled in after a Governor of Maryland died, from July 1831 to January 1833 and was then elected for a year's term.

The Carroll Building, opened in 1967, is named for Governor John Lee Carroll, Governor of Maryland from 1876 to 1880. He lived in Doughregan Manor, still owned by the Carroll family. His campaign opponent from the Know-Nothing Party unsuccessfully attacked Governor Carroll's Roman Catholicism.

The Ligon Building, connected to the Carroll Building, is named for Thomas Watkins Ligon, Governor of Maryland from 1854 to 1858. Ligon barely won over his Know-Nothing Party opponent from Montgomery County. Governor Ligon married into Howard County's Dorsey family.

The Warfield Building opened in 1973 and is named for Maryland Governor Edwin Warfield of Howard County, who held office from 1904 to 1908. He was previously a state senator and owned the Ellicott City Times from 1882 to 1886.

From: A pictorial History of Howard County by Joetta M. Cramm.
Focus

A wide variety of trees have been planted in the Howard County Office Complex; many which are native to the county, and many which are considered exotic. While probably not native to Howard County, the Baldcypress (Taxodium distichum) is certainly native to Maryland.

Because this tree loses its leaves and branchlets in winter it has earned the name "Bald" Cypress. The needles are soft and flat, crowded on flexible stems. In autumn the needles turn brown and the entire brachlet drops. Unlike the Dawn Redwood (growing right next to this tree) which has opposite leaves, these leaves grow alternately and spirally around the branch.

The cones are less than an inch in diameter and nearly round. Growing at the end of the twig, these cones are gray, becoming purple or brown later in the year. These cones grow on very short stalks unlike the Dawn Redwood whose cones have stems of 1-2 inches.

The Baldcypress grows naturally in swampy areas, on river banks, and on the border of marshes. In such wet areas it can grow characteristic "knees", woody projections from submerged roots. A long-lived tree, it can grow well over 100 feet.

The Baldcypress is the state tree of Louisiana, and is found growing naturally as far north as the Delmarva peninsula. Excavations in Baltimore City uncovered the ancient remains of a Baldcypress swamp. The heartwood is notably resistant to decay and has been used for construction, railroad ties, piers and durable fenceposts.
Directions
Take route 40 to Roger's Avenue which is just east of the route 29 intersection. South on Roger's Avenue to Court House Drive, and take your first right into the Howard County Office complex. Public parking is available. Enjoy the trees!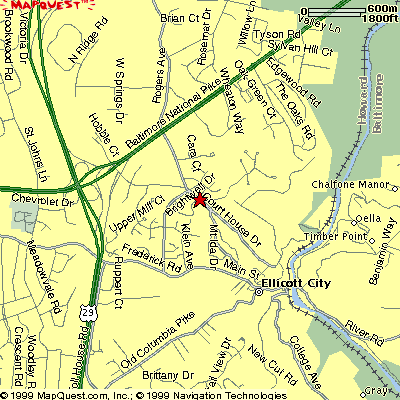 Contacts
Want to establish an arboretum where you live? Mail your questions to the

Arboretum Director
Howard County Arboreta
Howard County Forest Conservancy District Board
P.O.Box 819
Clarksville, MD 21029